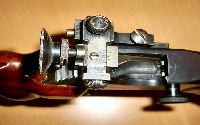 Rear sight and breech of a BSA MKII
The photographs below give an idea of the different types of guns and other equipment used by members of Marple Rifle and Pistol Club, both for indoor and outdoor shooting. The models of firearms shown are neither exhaustive nor exclusive and the only restrictions as to what can be used are those dictated by the Club's Range Safety Certificate for indoor shooting and the Ministry of Defence for use on their ranges.
Note: None of the shooting equipment shown below is stored at the Club premises, it is all privately owned by individual members.
The Club indoor Range has the following maximum restrictions for shooting:
Maximum calibre is: .455 inch for nitro propellant: there is no calibre limit for Black Powder.
Maximum velocity is: 1706 fps
Maximum muzzle energy is: 1045 ft/lbs.
Military ranges, such as the one at Sealand have their own restrictions and it is the responsibility of the Club's Range Conducting Officer on the day to check that all members equipment complies fully with the MOD range restrictions for the venue in use.
Revised: 20-Apr-2022.