in the area of Marple Rifle and Pistol Club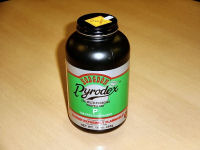 16oz bottle of Pyrodex Black Powder substitute
This section lists local dealers who can supply most shooting requirements in the Marple - Stockport - Manchester area. The page is a free service for the benefit of all dealers and if you are not listed and would like to be, then email the webmaster at the "Enquires" email address shown on the Home Page, with your details and we will include you at no cost:
---
Smart & Co. (Bob Smart) 0161 881 0081


Supplier of all types and makes of firearms, including muzzle loaders, shooting accessories, reloading equipment, components, nitro powder, Black Powder (including "Swiss").


Apart from the above telephone number, Bob Smart can usually be contacted in person at Marple Rifle and Pistol Club on Wednesday evenings at about 20:00.


email address: smart.co@btinternet.com

---

Branthwaite (Arthur Branthwaite) 0161 485 1199


6 Ravenoak Road, Cheadle Hulme, Stockport.


Supplier of all types and makes of firearms, especially shotguns and equipment for clay pigeon shooting.


email address: abranthwaite1@aol.com

---

Cheshire Gun Room (John Farrugia) 0161 480 8222

29 Buxton Road, Heavily, Stockport.

Supplier of all types of shooting equipment and clothing.

Gunsmith work undertaken on the premises.

Website: www.cheshiregunroom.com

Contact is either via the website's Contact us form, or alternatively you can use the email address: info@cheshiregunroom.com

---
Revised: 28-Feb-2022.