Club Badge
(of Marple Rifle and Pistol Club)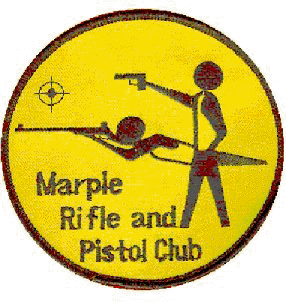 Copies of this cloth badge can be bought at the Club for £3-50 and it is shown above at about its actual size of 90 mm.* Also available are 25 mm self adhesive plastic badges with the same image as above for £1-00. We are happy to supply these badges to overseas collectors on receipt of a cheque, or international money order made out to: Marple Rifle and Pistol Club. Please add £3-00 to cover postage and packing.
* The actual size that you will see on screen is dependant on both the size of your monitor screen and its resolution.
Revised: 25-Nov-2021.