(how to join and costs)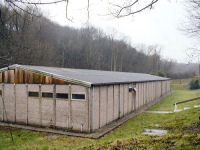 The range building

To speak to a Range Officer and make an appointment for a visit, call: 0161 427 9133 between 19:30 and 20:30 on a Wednesday or a Friday, or between 10:00 and 11:00 on a Sunday.
We will take your details and post you a location map of the Club Range.
We operate a booking system and

can

only take a maximum of 2 new visitors per day.
Please remember that we are a club, we are not a business like a bowling alley and cannot deal with large numbers of visitors at any one time.
See How to visit Marple Rifle and Pistol Club for more details
---
---
For

more information than contained in these notes

, please call 0161 427 9133 between the hours of

19

:

3

0 and 2

0

:

3

0, Monday to

Friday

inclusive and speak to one of the Range Officers.

All arrangements for a first visit must be made by telephone, you cannot make a date by email. When you call, we will ask for your full name, address and telephone number, we will then write to you enclosing a location map of the Club Range. When you receive the map, you can call again in order to make a date for your first visit to the Club. When you came for the first time, please bring some form of photo identification with you, such as a driving licence or passport.



Please be aware that all visitors and applicants for membership must sign a declaration stating that they are not prohibited by law from taking up shooting and holding a firearms certificate. This requirement applies to everyone without exception

,

irrespective of age

and it includes airgun shooters who may have no intention of ever applying for a firearms certificate.

Visitors are not expected to assist in the operation of the range and there is no obligation, or expectation that they will be required to undertake any tasks during their first visit. On the other hand both Members and Probationary members are required to help in the running of the club, by, for example helping to set up the targets, sweeping up at the end of practice etc (we are not like a Bowling Alley, where you come and have a game and then stroll off at the end of the night).


Costs: ... For Adults aged 18 to 64 inclusive, the membership fee for 2022 is £130 and if paid in full before 31 January will attract a £20 reduction. Juniors aged 14 to 17 inclusive pay £45 and if paid in full before 31 January will attract a £20 reduction. Seniors aged 65 and over pay £105 and if paid in full before 31 January will attract a £20 reduction. We operate a sliding scale for the membership fee, such that you only pay for the balance of the year remaining when you join. For example an Adult, joining in July would pay £65 for the remainder of the year.
There is a £35 joining fee per person and this is paid no matter when you join, or what age you are.

Range fees for members and probationary members are £3 per day, but juniors only pay £1 (there is no additional charge to use Club equipment such as rifles, or jackets).

The visitor fee is £10 for someone on their first visit to the Club (this includes the loan of a gun and the supply of ammunition and targets).

We stock ammunition for .22 rimfire and airgun shooting only; as a guide 50 rounds of .22 will cost you about £4-00 and 5 targets £0-70.

Club guns, both .22 rimfire rifles and 4.5mm airguns of various types are available for member and probationary member use at no additional cost.

Contact the club for further details of costs and times of opening or see: Visit the Club

Membership of the club gives full access to all types of shooting, both at the club's indoor range and

at

outdoor range

s that we visit

. There is no part membership, even if

for example

you only wish to shoot airgun on a Thursday night. You do not have to take part in all the types of target practice that we offer, but full membership does give you the right to take part in all club

activities

on all

occasions

that we are open.

Please note that the minimum age for full membership is 18. We do have a junior section, admission to which is decided on a case-by-case basis; however the minimum age for airgun shooting is 18 in all cases, see Juniors page for full details.

We especially welcome ladies to come and try shooting, please do not think that our sport and this club is a male only preserve, it is not!

---
Disabled persons are welcome to join the Club, but must be aware of the following points before making an application to come for a visit ............................

If you have any form of disability, either mental or physical this must be declared at the time of the application for a first visit.

We do have some dedicated disabled parking and specific access to the range for wheelchairs, but capacity is very limited and if you wish to use this facility, it would always be best to telephone first. First come - First served. All the doorways in the Club building will allow wheelchairs to pass through. We do not have specifically modified disabled toilets, you will have to be able to use a normal toilet installation, either on your own, or with the help of a carer (both male and female).

You must be entirely, 'self-contained' and by that we mean that you must be able to do everything for yourself; from loading the gun, to changing targets. We do not allow the use of carers on the range. If you need assistance to shoot, our Club is not for you.

If you have a seeing disability, we recommend contacting the NSRA for advice as to the whereabouts of the nearest Club catering for this disability. You have our sympathy, but we do not have the equipment to cater for such a condition.

Hearing disability is not normally a problem, provided that you do not need the services of an interpreter. We do not have any sign language qualified members and you must have at least enough hearing to be able to recognise a Range Officer's shouted commands.
If in any doubt, call the Club on 0161 427 9133 and discuss the matter with a Range Officer.
---
We are open as follows (these are guide times and may vary):

Monday

:

19:30 to 21:30 for .22 rimfire rifle

(mostly shot from the prone position)




Tuesday

:

19:30 to 21:30 for .22 rimfire rifle

(mostly shot from the prone position)




Wednesday

:

19:30 to 21:30 for all calibres of rifle and pistol

(mostly shot from the standing position)




Thursday

:

19:30 to 21:30 for 4.5 mm airgun, both rifle and pistol (only shot from the standing position) (minimum age is 18)


Friday: 19:30 to 21:30 for all calibres of rifle and pistol (mostly shot from the standing position)


Sunday

:

10:00 to 12:00 for all calibres of rifle and pistol

(mostly shot from the standing position)



For fuller details of shooting activities, read on .....
We are located in Marple,

about 5 miles to the south-east of

Stockport

town centre and 12 miles to the south-east of Manchester, in

Cheshire, England, in the United Kingdom of Great Britain and Northern Ireland. Between 1974 and 1986 Manchester, Stockport and Marple were in the administrative county of Greater Manchester (now abolished). The telephone code for the Manchester area is: 0161, for Marple it is 427 (or 449) and for the club itself the full national telephone number is: 0161 427 9133. If telephoning from outside the UK, you will need to omit the initial "0" and insert your country's international access code before the access code for the UK, for example: +44 161 427 9133.


Marple's neighbours in the Stockport, Offerton and Bredbury area are, Romiley, Compstall, Mill Brow, Strines, Mellor, New Mills, Hazel Grove, High Lane, Cheadle and Cheadle Hulme. A little further in towards Manchester, are Heaton Mersey, Heaton Chapel, Heaton Moor and Heaton Norris.



Marple is close to the Cheshire - Derbyshire border and is not to be confused with the Marple near Philadelphia

,

in the state of Pennsylvania

in the USA. There is however a connection, in that one Francis Stanfield who emigrated to America in 1683 had lived in Marple,

England and seemingly named his new home in the New World after his old home in England.

Marple is also where Agatha Christie got the name for her famous lady detective Miss Marple, this was apparently after she was delayed for several hours at Marple rail station in the 1920's


We do not publish full details of our location here, you will need to obtain directions by telephoning us on 0161 427 9133.



The range is a purpose built facility that does not share with any other users and so we have complete freedom to do as we wish. In practice, opening times are dictated only by demand and if the demand were to be present, we could be open 24 hours a day 7 days a week. We do not have any neighbour problems with access, noise or parking.

The whole range has recently been redecorated to a high standard and is well heated in the social area / toilets / kitchen and coaching rooms. The actual firing range itself is also electrically heated, both for firearms and separately for airguns.

For a small charge there are a selection of beverages (tea, coffee, canned drinks) and biscuits available in the kitchen for members use.

The Club is wholly owned by the members and the administration of it is carried out by officers and a committee, who are elected annually at the AGM in January. The range is run on a day to day basis by voluntary Range Officers.

The Club is not a commercial enterprise and is not run on a, 'for profit basis'. All surplus left over after paying our bills is re-invested in the club.

---
Revised: 12-Jun-2022.